The Big Island of Hawaii, due to its variable terrain and volcanic activity, is famous for its many shades of sand, from fluffy sugar-sand to gray and black sand beaches. The most unique beach on the island, however, has attracted visitors from around the world due to it's one-of-a-kind appearance. Papakōlea Beach, also known as Green Sand Beach, is located near the southern tip of the Big Island — away from paved roads and property developments. It's a half-day journey to get to Papakōlea, but a very worthwhile adventure.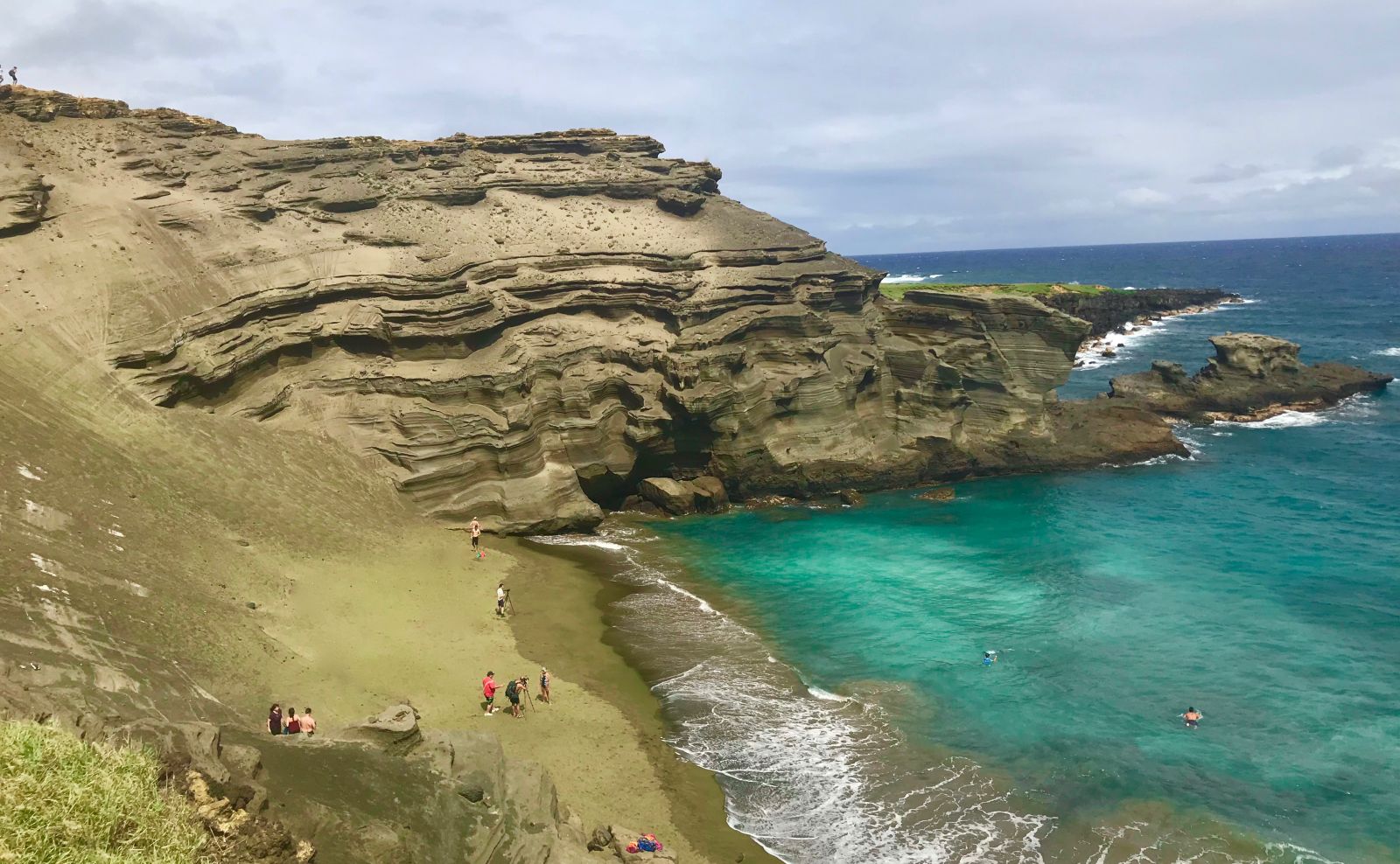 Green Sand Beach gets its unique appearance from fragmented Olivine crystals, the only gem that naturally exists on the geologically young Island of Hawaii. The beach is located inside the remains of an eroded volcanic crater, which was breached by continuous wave action thousands of years ago. Unlike the many cinder cones found around the island, Green Sand Beach (like Diamond Head on Oahu) is within a tuff ring, or a volcanic feature formed by magama erupting diectly into the ocean waters. The eroded volcanic cliffs contain thousands of pounds of Olivine crystals, which continue to produce sand-like green particles with continued weathering.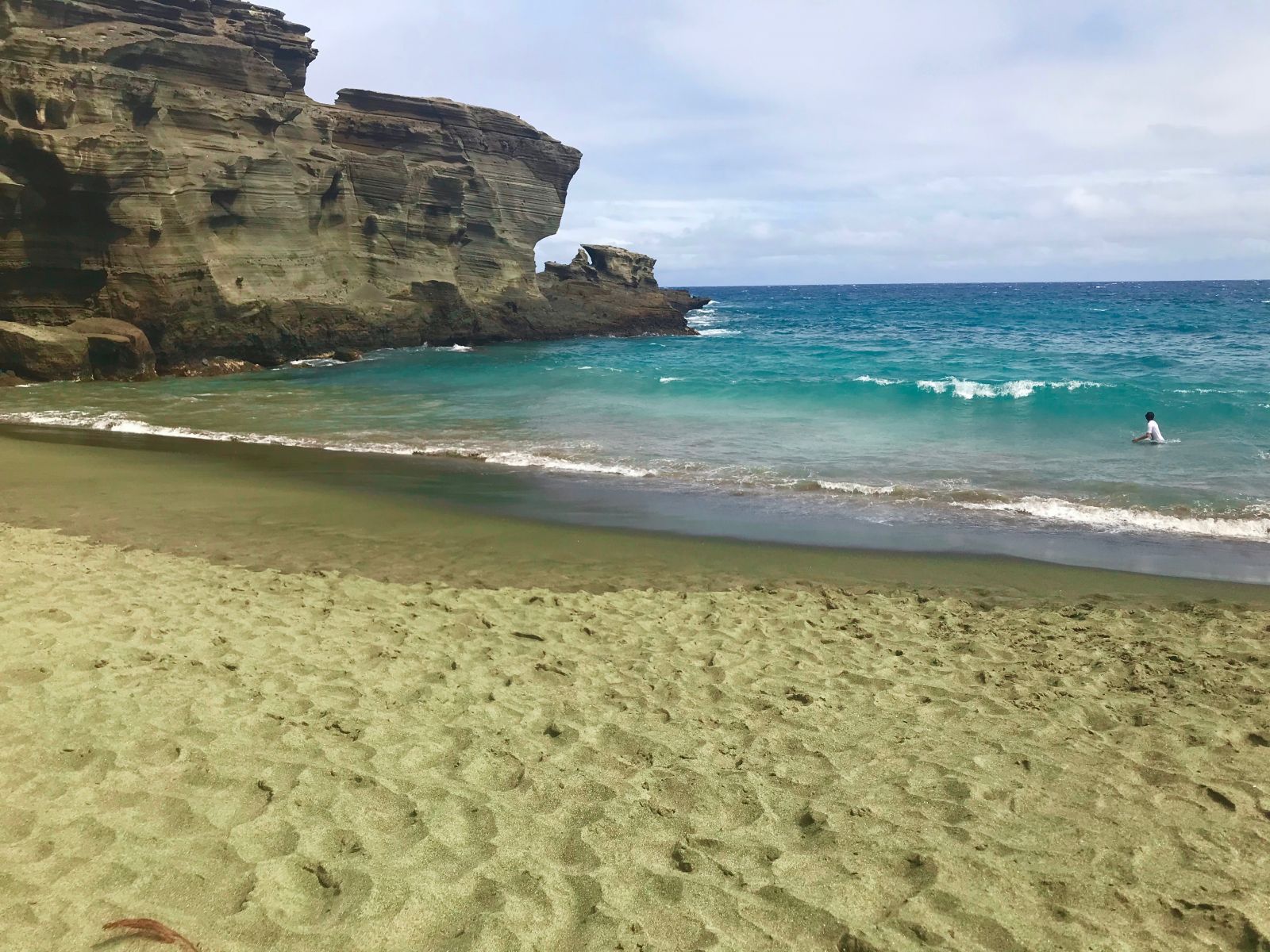 Green Sand Beach can be accessed by South Point Road — the southernmost road in the United States. The drive from Mamalahoa Highway to the nearest parking area is approximately 10 miles. Signs direct drivers towards the east (left) near the terminus of South Point Road, where the nearest approach to Green Sand Beach can be found.
The walk along the dirt road to Green Sand Beach takes about 45-minutes each way. If one wishes to pay, there are usually vehicles operated by nearby residents that offer a round-trip drive (the cost was $20 the last time this writer visited the area). It is suggested to bring water, food and sunscreen, as the walk to Green Sand Beach is generally wam, sunny and windy.
The green sands can be accessed by a brief but steep trail down the crater wall. Waves are generally large enough for body surfing, and Honu (Sea Turtles) are often found nibbling algae within the cove.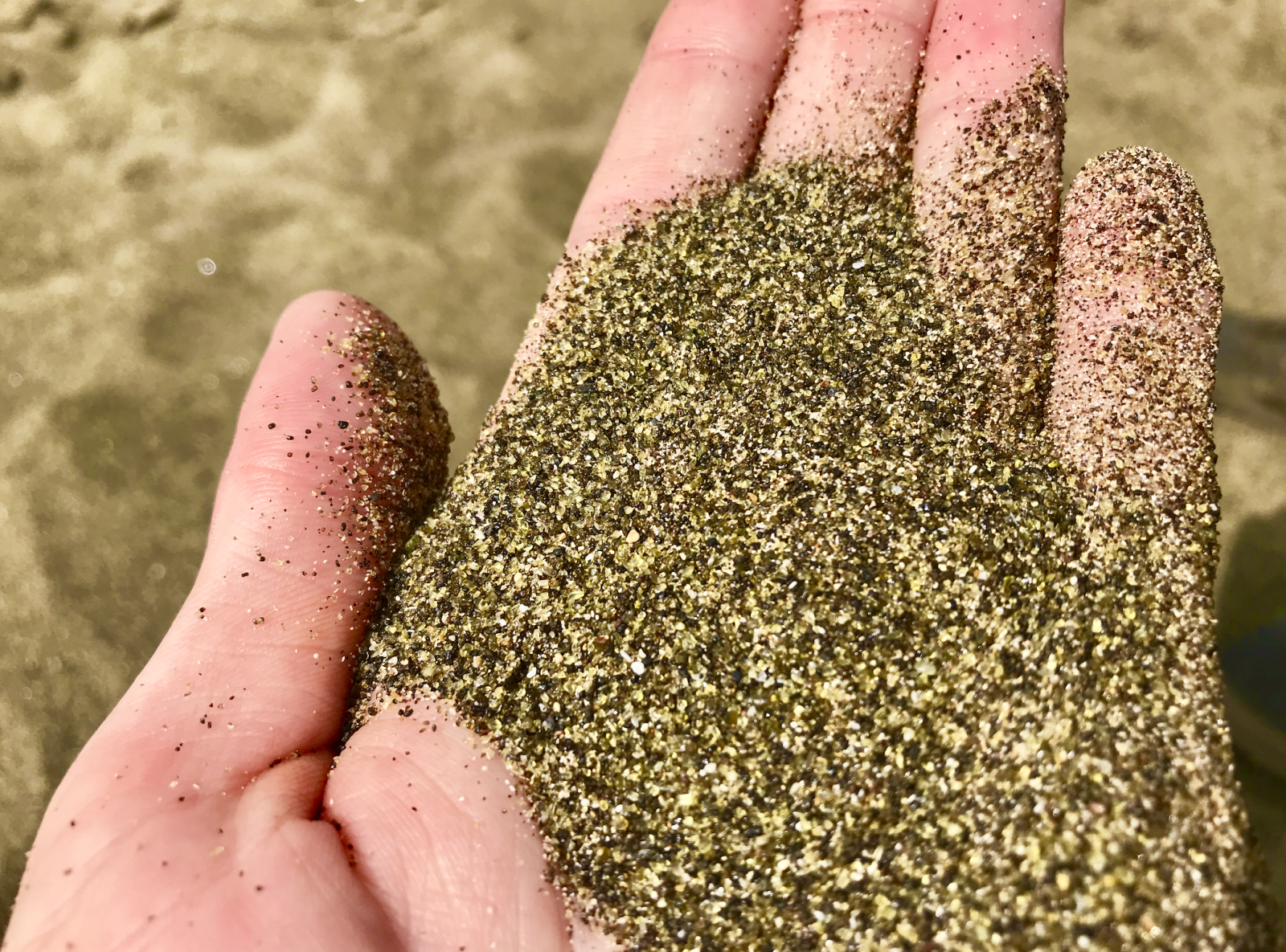 Due to its remote location, Green Sand Beach is rarely crowded, and mornings being the least busy time of day. There are no public accomodations on the beach, so visitors are asked to help maintain Green Sand Beach's awe-inspiring beauty by leaving the beach a little cleaner than when you arrived. 
Explore the Island of Hawaii