Of all the animals in Hawaii, few attract as much fan-fare as the sea turtle. Known by the ancient Hawaiians as Honu, sea turtles inhabit the shores of every island in the state, from bustling Oahu to distant Midway Atoll. They are most often found in shallow coastal waters, or beached along the shoreline in the afternoon sun. But where is the best place to view sea turtles on the Big Island?
Sea turtles are most abundant near coral reefs and protected inlets, which offer ample food and protection from deep sea predators and large waves. The largest system of reefs on the Big Island exists along the calmer west coast, extending from Kawaihae down to South Kona.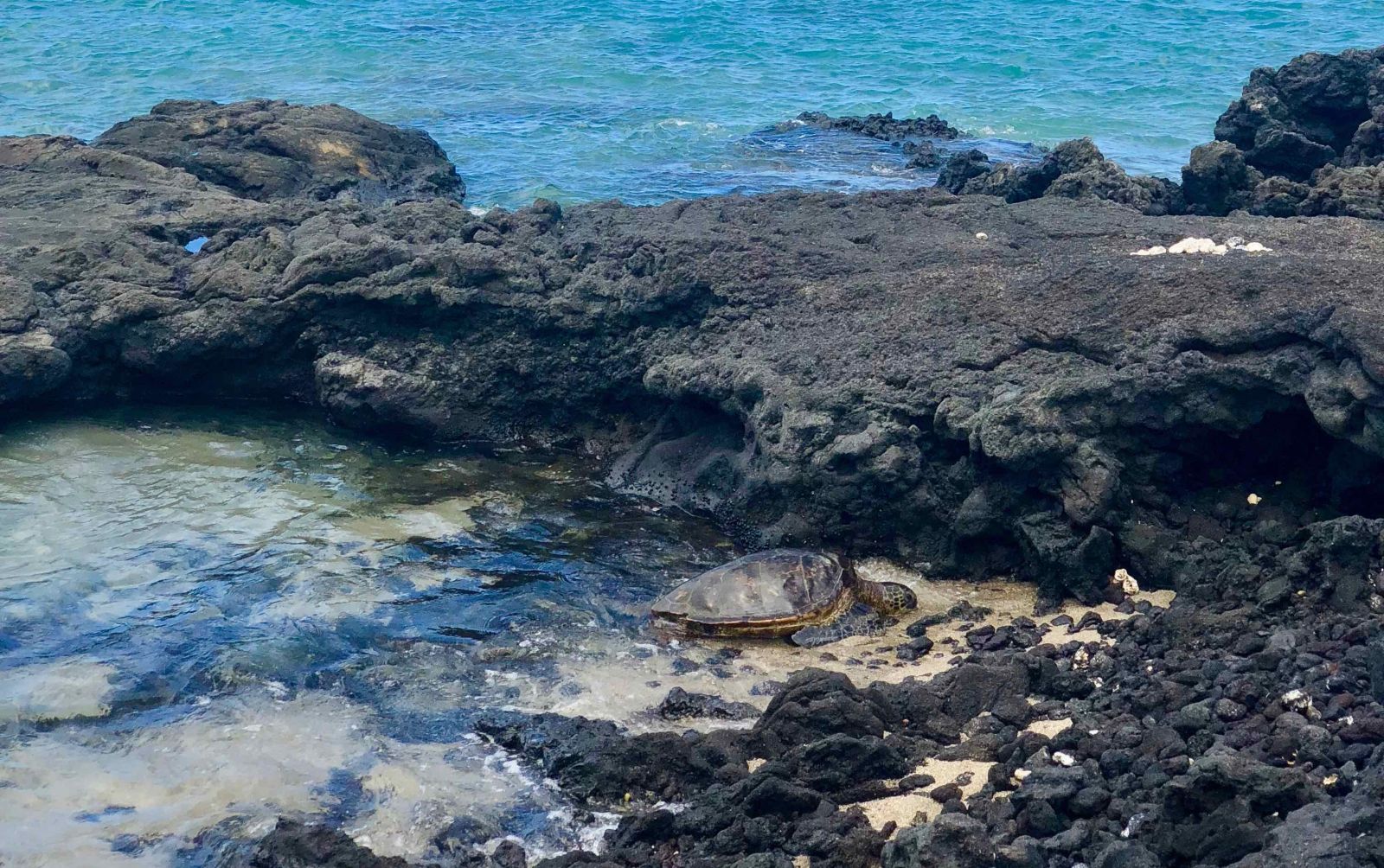 Best Place to See Sea Turtles on Big Island
One of the most easily accessible locations to view sea turtles in South Kohala is A-Bay, where a dozen or more sea turtles can be found along the small coves and beaches immediately south of Lava Lava Lounge. As in other locations, turtles are most easily seen in the afternoon between noon and 5 pm when daytime heating is at a maximum. 
Kahalu'u Beach Park
The shallow offshore waters of Kahalu'u offer some of the best snorkeling in Hawaii. Sea turtles gather to feed on sea grass and algae every day within the protected bay, allowing for great underwater viewing opportunities. 
Kiholo Bay
One of the most reliable turtle sighting locations in the state is Kiholo Bay, where groups of Green Sea Turtles bask along the smooth Pahoehoe lava rocks surrounding the bay.
Punalu'u Black Sand Beach
Located on the more rugged southeast coast of the Big Island, Punalu'u is a natural bay with a pristine black sand beach. Dolphins and sea turtles can often be sighted in the bay, particularly near the underwater reefs. 
Fun Facts About Sea Turtles on the Big Island
Sea turtles are protected by law: Stay at least 20 feet away from sea turtles and be sure to NEVER touch a turtle in any way. 
Sea turtles come to shore to rest or sleep
Green and Hawksbill turtles reside in Hawaii (Green turtles are commonly seen)
Plan Your Big Island Vacation