If there were a time of year to visit Hawaii where you could take advantage of lower vacation rental rates, fewer tourists, and great weather, would you go? It's no fairytale: Hawaii's shoulder season in September and October is the perfect time to plan your tropical getaway and save on airfare, accommodations, restaurants, and activities, all while enjoying beautiful beach weather.
What is Shoulder Season in Hawaii?
Shoulder season is generally the time of year before or after an area's peak season, and is a secret of veteran travellers. For most of Hawaii, including here on the Kohala Coast, the shoulder season is fall. Because Hawaii's summer weather lasts through October, September and October can be the perfect time to take advantage of beautiful beach days without the crowds. Although the rainy season can begin near the end of October, South Kohala is notoriously dry, averaging only 10-12 inches of rain per year. Plus, a little rain just means more Hawaiian rainbows!
In Hawaii's shoulder season, decreased demand and fewer visitors typically mean lower accommodations prices, but all of South Kohala's attractions, entertainment, and restaurants are still open and ready for your enjoyment. Airfare from the mainland to Hawaii is also typically more affordable in September and October, while rates start to rise in November.
Enjoy Fun Events and Activities
Fall on the Big Island means you can experience Hawaii like it's your own private island. View our nearby sights without fighting off crowds or try new ocean activities like surfing, snorkeling, kayaking, or stand up paddle boarding! Typically, the ocean is a bit calmer in the fall meaning smaller waves - great for swimming, and an easier introduction to surfing and other water sports.
If you're looking for a challenge or inspiration from elite athletes, the Ironman World Championships occurs every October. This year, it will take place October 13, 2018 along the coast, from Kailua-Kona to Hawi. The triathlon, which consists of a 2.4-mile swim, 112-mile bike, and 26.2-mile run, attracts top athletes from all over the globe.
If science fiction is more up your alley, don't miss HawaiiCon, a Star Trek Convention happening September 13-16, 2018. The event is a 4-day showcase of Hawaii's comic community, featuring stars from the sci-fi, fantasy, and horror industry.
Get a Seat at the Best Restaurants
The Big Island of Hawaii is renowned for incredible seafood restaurants and delicious authentic Hawaiian dining experiences. While reservations book up early during summer and winter, fall provides you the chance to experience some of the best restaurants on the Big Island without having to make a reservation months in advance. A few of our favorite restaurants include:
Explore the Sights in Solitude
Visit our beautiful landscapes and get the perfect family photo for this year's holiday card without having to photoshop out other visitors.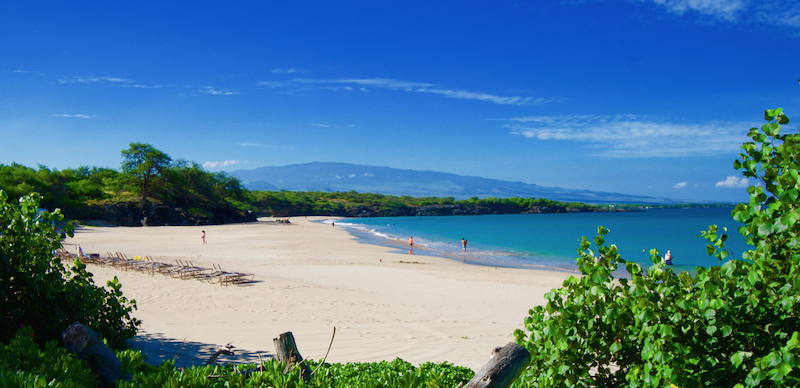 Hawaii is gorgeous year round, and our nearby vistas put on a show whether or not people are around to see them.
Pololu Valley Lookout - You can take in the beauty of the valley from the lookout or take the hike down to the valley floor and beach for an even better vantage point.
Hapuna Beach State Recreation Area - Grab a snorkel or a boogie board or just enjoy relaxing on this beautiful white beach. In the summer, there can be up to 200 feet of sand with plenty of space to lay down your beach towels.
Volcanos - A Hawaiian vacation isn't complete without a visit to a volcano. Several tour companies offer day-long tours that do all the planning and driving for you.
Unwind on Renowned Big Island Golf Courses
The Kohala Coast is known for spectacular golf courses with lush green fairways rising above crystal blue water. Several of our big island golf courses were designed by the likes of Pete and Perry Dye, Arnold Palmer, and Robert Trent Jones. And, many of our properties are located near by or right on our stunning Big Island golf courses.
Plan Your Big Island Fall Vacation